Capital by Cab!
7 day tour for Individuals
From GBP £2850 per person based on minimum 2 persons
One of the most iconic images of London is the Black Cab. Enjoy a private, 7 day taxi tour around London and Southern England in your own black cab with a personal driver/guide. Avoid the crowds and the hustle and bustle of public transport and see the capital in style.
Tour Highlights Include:
London  – A wonderful city mixing royalty, history, heritage and countless cultures. London's incomparable blend of influences, traditions and history make it an unmissable destination for travellers. Britain's biggest city has it all – and then some.
Windsor Castle – With over 1000 years of history and heritage it is the oldest and largest occupied castle in the world and the official residence of Queen Elizabeth II.
Hampton Court Palace: Originally built in 1515 Hampton Court became the centre of Henry VIII's Tudor Court.  Explore the Palace where he entertained all 6 of his wives, the kitchens his feasts were prepared in and the chambers he lived and slept.
Bath – The only place in the UK to have the whole city designated a UNESCO World Heritage Site. You will find it is steeped in culture and incredibly preserved Roman sites.
Stonehenge – This wonder of the ancient world is a still a mystery. Why it was built and how it was constructed still remain a mystery. Wander in the footsteps of our neolithic ancestors as you explore this 5000 year old monument.
Oxford: Designated a world heritage site and world famous University dating back to the 13th century – with some incredible medieval architectural masterpieces. It is the only city in the UK that has a delicate combination of modernity with the atmosphere of an English village town.
Blenheim Palace: A world heritage site with over 300 years of history  It is the birthplace of the 'Greatest Briton of all time' – Winston Churchill.
Discover some more of England with some of our other Incoming Tours. 
---
Dates
Available April to October 2023
---
Itinerary Summary
Day 1
Welcome to London
Upon arrival in London your private transfer will collect you from Heathrow Airport and take you on a panoramic tour of London, taking in all of the major sites such as Buckingham Palace, Tower Bridge and the House of Parliament.
You will then check into your hotel, the 4* Bailey's Hotel – a wonderfully boutique hotel set in the heart of Kensington – before spending the rest of the evening at your leisure exploring the local area.
Why not enjoy dinner at the hotels wonderful Oliver restaurant or ask us for some suggestions for local places to eat.
Day 2
Windsor and Hampton Court
After a traditional breakfast at your hotel, your private driver/guide will collect you and take you to Windsor Castle where you will visit the world's largest occupied castle – the home of Monarchs for more than 1,000 years  and final resting place of legendary names such as Jane Seymour and Henry VIII.  You will continue on a short walking tour of Windsor, seeing many hidden treasures of the area and cross the River Thames to arrive in Eton – the famous boarding school attending but both Princes William and Harry.
Leaving Windsor behind, you will visit the island of Runneymede, where King John sealed the MagnaCarta in 1215 and stop at a traditional English Pub for lunch before heading to Hampton Court Palace for your VIP tour.
Henry VIII's magnificent palace saw him entertain all 6 of his wives and he made the palace the centre of the Tudor Court. Your VIP tour will take you through the Tudor State Apartments, Tudor Kitchens, Great Hal, Chapel and the gallery – rumoured to be haunted by Queen Catherine Howard.
Your driver/guide will then take you back to your central London hotel for you to spend the rest of the evening at your leisure.
Day 3
Full Day Taxi Tour of London
After a traditional breakfast at your hotel, your private driver/guide will collect you and you will begin your journey around London, taking in the major sights and landmarks of London including Westminster Abbey, where monarchs have been crowned since 1066, Buckingham Palace and the Changing of the Guard, House of Parliament, Big Ben and Trafalgar Square.
Take a drive past Downing Street, Harrods, Kensington Palace and many more before stopping for lunch in a traditional, 300 year old pub situated on the bank of the River Thames.
After lunch you will see the Tower of London which in its history has been a palace, prison, zoo, royal mint and place of execution – today it is home to the Crown Jewels. You will then head across Tower Bridge into the City of London – the one square mile built by the Romans over 2,000 years ago.
Visit Shakespeare's Glove Theatre, the oldest church in the city (built in 1123) and see where the Great Fire of London started in 1666 before travelling the short distance to St. Paul's Cathedral.
London has many hidden secrets and this tour is an ideal way to explore them all – the tour is fully customisable for you and your driver/guide will take you to places that interest you most before you return to your hotel to spend the rest of the evening at your leisure.
Day 4
Stonehenge
After an early breakfast your private driver/guide will collect you and take you to Stonehenge for your 9.30am visit. While there you will walk in the footsteps of or Neolithic Ancestors. Explore the ancient monuments and landscape, step inside the ancient Neolithic houses, explore the museum and come face to face with a 5,500 year old man.
From Stonehenge you will drive on to Bath; a Roman Spa town that was revived by Georgian society in the 18th century.  The whole city has been designated a UNESCO World Heritage Site.  It is set in the rolling countryside of south west England. Upon arrival there will be free time for lunch and you will then be able to explore the Roman Baths, Bath Abbey and Putney Bridge.
There will be some free time for shopping in the quaint antique and craft shops before returning to your central London hotel to spend the rest of the evening at your leisure.
Day 5
Free and Easy in London
After a few action packed days, today is free for you to explore London at your own pace. Why not ask us to book a sightseeing bus ticket for you to enjoy the city or perhaps enjoy the views from the River Thames by embarking on a River Cruise.
Day 6
Oxford
After a traditional breakfast at your hotel,m your private driver/guide will collect you and take you through the beautiful Oxfordshire countryside to Oxford the 'City of Dreaming Spires.' This ancient city boasts over 1,000 listed buildings from every major period of British History from the 11th century onwards. As you explore the city, you will discover it is an enchanted, fairy tale area, full of mystery and wonder, and understand why it has inspired so many famous writers and film makers over the years.
The tour will take in the cities major attractions including the famous University, Bonleian Library, Carfax Tower (considered the centre of the city and all that remains of the 13th century St. Martins Church), St Mary the Virgin Church – the largest of Oxford's parish churches and All Souls College.
Once you have dspent a few hours exploring the city you will head to the Cotswolds to have lunch in a 300 year old, traditional British Pub.  You will then drive to the churchyard at Bladon where Winston Churchill is buried, and then ti Blenheim Palace – birthplace of the 'greatest Briton of all time.' Blenheim boasts more than 2,100 acres of landscaped gardens, incredible state rooms and a library containing more than 10,000 volumes.
You will then return to London to spend your final evening in London at your leisure.
Day 7
Home Time
After a farewell breakfast, your private transfer will collect you and take you to the airport to commence your journey home.
---
4* Bailey's Hotel – London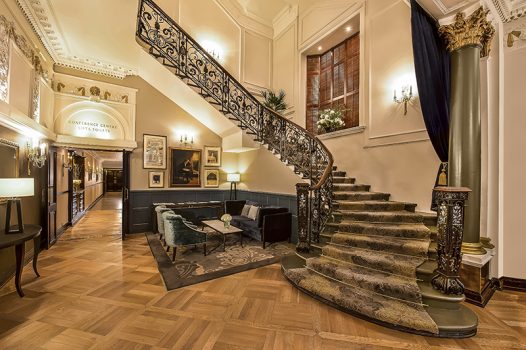 Inspiring British heritage, The Bailey's Hotel, London is a charming spot in the heart of fashionable Kensington.
You'll feel sat home in the Victorian grandeur of the redbrick townhouse, just moments away from world renowned museums and the luxurious neighbourhood of Knightsbridge.  With a history as beguiling as the five story staircase and impressive decor, this characterful hotel will make you wish walls could talk.
Spacious and welcoming, the rooms offer flat-screen TC's and an individual private bathroom with free toiletries and slippers.  Complimentary bottled water, coffee, tea and biscuits are provided in the rooms and replenished daily.
After a busy day, unwind in the fitness room, or in Olives, an award-winning authentic Italian restaurant and bar,  The restaurant serves a wide range of pasta, fish and meat dishes specially prepared by the chef.
---
Guideline Price will be GBP £2850
All prices shown are per person, and based on 2 people sharing a twin or double room.
Rooms for single occupancy are available and a supplement will apply – please contact us for details.
Rates are Nett and non commissionable and are available to Travel Trade only – Public rates are available on request
ALL OUR RATES ARE NET (NON COMMISSIONABLE). Price is per person based on 2 persons sharing twin/double room. Single supplement on request. Offer is subject to availability. Pictures are for illustrative purposes only. Our website policy is to use only copyright free images or images which have been authorised to us for free use by the owner. If you consider an image to be unauthorised or to be your property, please contact us immediately and if invalid we will have the image removed. If your image requires crediting or is missing a copyright statement then we will be pleased to add this to the webpage, contact us at info@greatdays.co.uk
Send an Enquiry